Work Sharing Constructs(loop)
Serial version discussion¶
To begin to understand the work-sharing constructs, we need to learn how to parallelise the for - C/C++ or do - FORTRAN loop. For this, we will learn simple vector addition examples.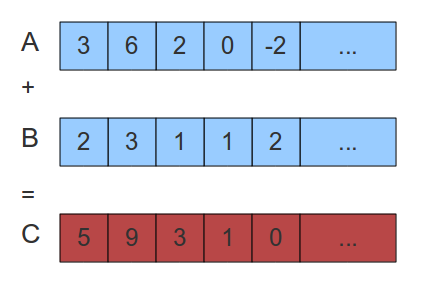 As we can see from the above figure, the two vectors should be added to get a single vector. This is done by iterating over the elements and adding them together. For this, we use for - C/C++ or do - FORTRAN. Since there are no data dependencies, the loop indexes do not have any data dependency on the other indexes. Therefore, it is easy to parallelise.
Examples: Loop
Parallel version discussion¶
Now we will look into the how to parallelise the for - C/C++ or do - FORTRAN loops. For this, we just need to add below syntax (OpenMP directives).
| Functionality | Syntax in C/C++ | Syntax in FORTRAN |
| --- | --- | --- |
| Distribute iterations over the threads | #pragma omp for | !$omp do |
With the help of the above syntax the loops can be easily parallelised. The figure below shows an example of how the loops are parallelised. As we can notice here, we set the omp_set_num_threads(5) for the number of parallel threads that should be used within the loops. Furthermore, the loop index goes from 0 to 9; in total, we need to iterate 10 elements.
In this example, using 5 threads would divide 10 iterations by two. Therefore, each thread will handle 2 iterations. In total, 5 threads will do just 2 iterations in parallel for 10 elements.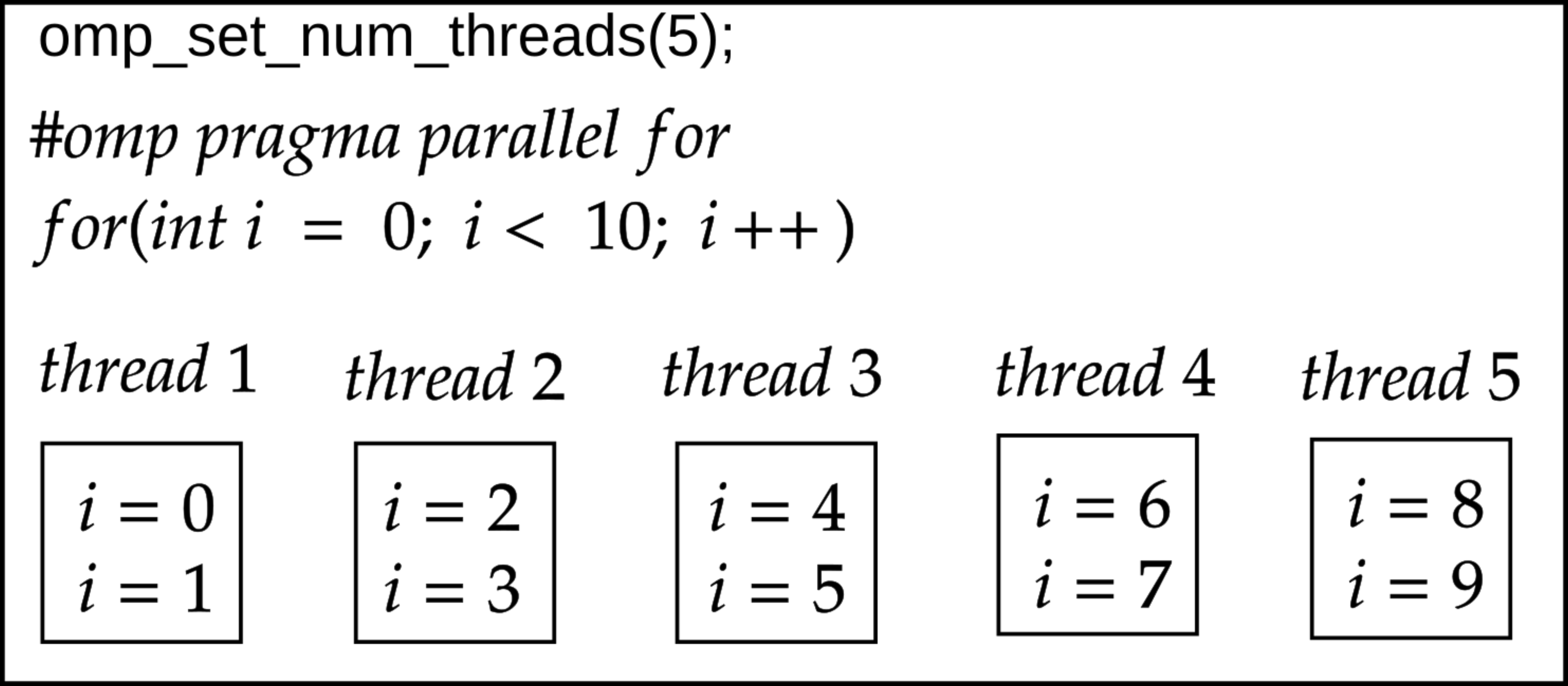 Examples: Loops parallelisation
From understating loop parallelisation, we will continue with vector operations in parallel, that is, adding two vectors. It is very simple, and we just need to add the #pragma omp parallel for for C/C++, !$omp parallel do for FORTRAN. Could you try this by yourself? The serial code, templates and compilation command have been provided as follows.
Questions and Solutions¶
Examples: Vector Addition
Compilation and Output
Questions

Can you measure the performance speedup for parallelising loop? Do you see any speedup?
For example, can you create more threads to speed up the computation? If yer or not, why?
---
Last update:
June 19, 2023 01:00:11
Created:
April 26, 2023 10:45:49